Become a CWSF STEM Expo Exhibitor
Canada's largest youth STEM event
On the last three days of the weeklong Canada-Wide Science Fair (CWSF), Youth Science Canada hosts the country's largest youth science, technology, engineering and mathematics (STEM) event—CWSF STEM Expo.
STEM Expo is designed for visiting students and teachers (grades 5-11) and features hands-on interactive activities including experimenting, making, coding, games, robotics, Indigenous knowledge, inspiring presentations, exciting demonstrations and more by companies, organizations, agencies, institutions, museums and other STEM-related organizations.
CWSF STEM Expo 2023 will be held at the Edmonton Convention Centre.
Free admission for visitors from May 17-19.
See the STEM Expo Prospectus for exhibit details.
Click here to access previous STEM Expo Directories.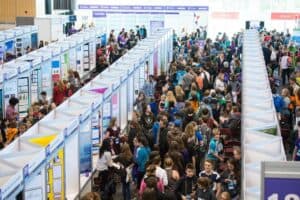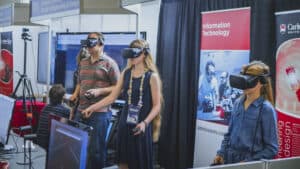 Testimonials
This is one of the most important annual events in Canada, bringing together thousands of kids interested and engaged in STEM. For Science Odyssey, it is an honour to be partnering with YSC and CWSF, and together contribute to foster a strong science culture in Canada.
José-Manuel Gil, Science Odyssey – Powered by NSERC
Our Power of Ideas team couldn't say enough about what an amazing experience it was interacting with the students. They were so engaged.
Perimeter Institute for Theoretical Physics
Wonderful interaction with students and teachers. 
Nicky Middleton – Brainspace
Well planned and well delivered.
Antoine Garwah – Science Timmins