YSC reveals team to represent Canada at virtual Regeneron ISEF 2022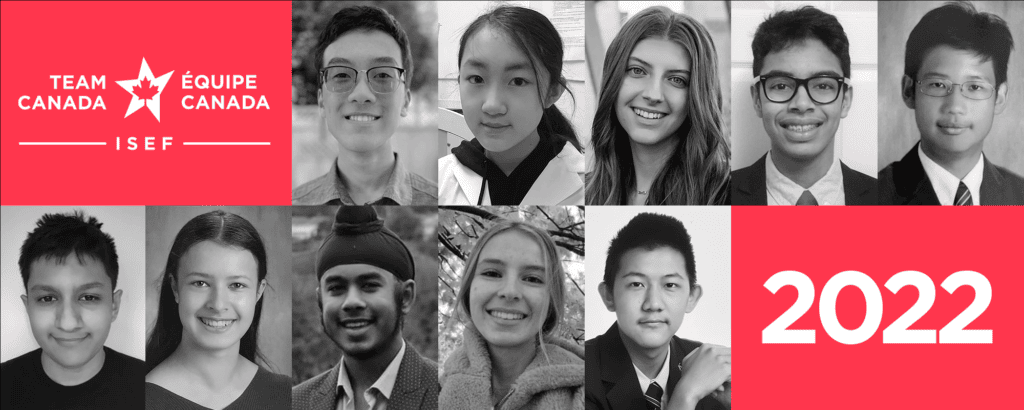 OTTAWA, March 22, 2021 – A group of ten high school students will represent Canada at the world's most prestigious youth STEM project competition, the hybrid 2022 Regeneron International Science and Engineering Fair, May 7 to 13. The students were selected by a panel of researchers and educators and chosen based on the level of ingenuity, critical thinking, scientific excellence, and communication skill in developing their STEM project.
"The quality of these projects and the calibre of these students is truly remarkable," says Reni Barlow, executive director of Youth Science Canada, the national charitable organization behind Team Canada-ISEF since 1995. "Team Canada will be competing against the best students from more than 80 countries.  I encourage everyone to support these young scientists by learning more about their projects and speaking of the value STEM-based projects have inside and outside of school, to children and teens."
Team Canada-ISEF 2022 is comprised of (left to right and top to bottom in photo):
Timothy Cai – Surrey, British Columbia
An Investigation into Active Control for Accessible Orbital Flight
Cindy Cheng – Waterloo, Ontario
A Novel Bioinspired Skin Substitute for Accelerated Wound Healing
Catherine Diyakonov – Vancouver, British Columbia
Nano-Antioxidants' Effects on Oxidizing Agent Exposure
Calvin Karthik – Peterborough, Ontario
A Mighty Mushroom and The Power of Poop: Testing Biogas Production Using Spent Mushroom Substrate V2
Haolin Li – Toronto, Ontario
Decoding the underlying neural activity of neurodegeneration in traumatic brain injury
Artash Nath – Toronto, Ontario
The Silence of Global Oceans: Acoustic Impact of the COVID-19 Lockdown
Julie Sieg – Toronto, Ontario
The Effects of Increased Sea Temperature on Phytoplankton Community Composition by Cell Size
Hardit Singh – Waterloo, Ontario
Speculor: A Comprehensive Teleophthalmology Platform for People Centered Eyecare
Anna Monica Voia – Candiac, Quebec
Effect of Mimosa Plant Phytochemicals on the Stress Response Pathways of Caenorhabditis elegans
Henry Zhao – Burnaby, British Columbia
Low-Cost Quadruped Robot with Rough Terrain Traversal, Obstacle Avoidance, and Autonomous Navigation
"The time, energy and ingenuity these students invest into these projects is remarkable and something of which they can be very proud," says Prof. Patrick Whippey, chair of the selection panel. "From their scientific inquiry, curiosity and outstanding creativity, each student has certainly earned their spot on the team".
The YSC Team Canada-ISEF program is made possible thanks to the Gwyn Morgan & Patricia Trottier Foundation, through its Youth Can Innovate program. To learn more about the program or to donate in support of youth in STEM, please visit Youth Science Canada donation page.
About Youth Science Canada
Youth Science Canada fuels the curiosity of Canadian youth through STEM projects. A registered charity incorporated in 1962, YSC delivers on its mission through national programs including mySTEMspace, the National STEM Fair Network, Canada-Wide Science Fair, STEM Expo, Team Canada representation at international fairs and Smarter Science professional development for teachers. Through these programs, YSC provides direct support to the more than 500,000 students who do STEM projects in any given year. For more information, visit youthscience.ca
For more information:
Laurence Sauvé
Torchia Communications
Cell: (514) 984-4122
[email protected]