YSC reveals Team Canada-ISEF 2023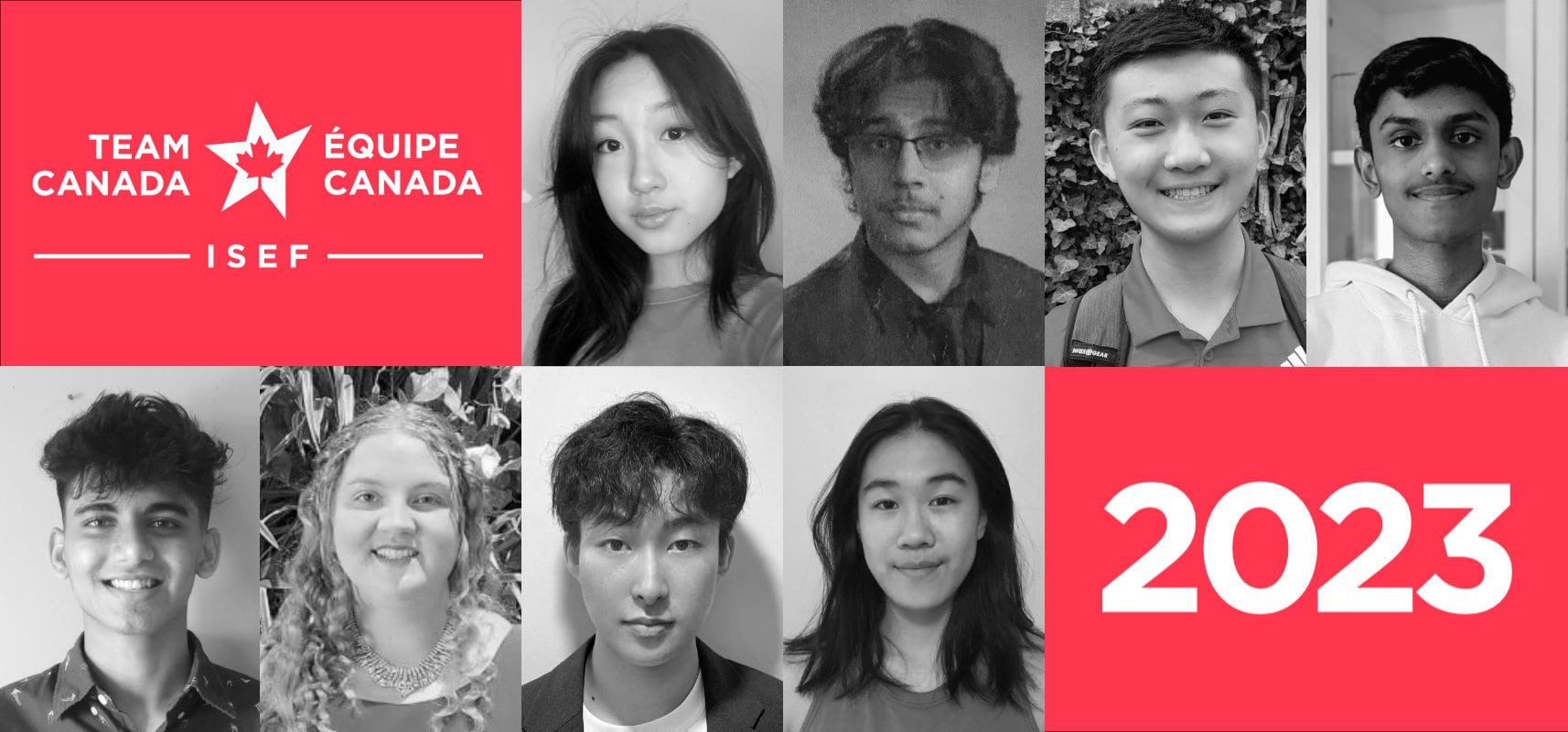 OTTAWA, March 19, 2023 – A group of eight high school students will represent Canada at the world's most prestigious youth STEM project competition, the 2023 Regeneron International Science and Engineering Fair, from May 14 to 19 in Dallas, Texas. The students were selected by a panel of STEM professionals from across the country based on the level of ingenuity, critical thinking, scientific excellence, and communication skill in developing their STEM project.
"The quality of these projects and the calibre of these students is truly remarkable," says Reni Barlow, executive director of Youth Science Canada, the national charitable organization behind Team Canada-ISEF since 1995. "Team Canada will be competing against the best students from more than 80 countries. I encourage everyone to support these young scientists by learning more about their projects and speaking of the value STEM-based projects have inside and outside of school, to children and teens."
Team Canada-ISEF 2023 comprises (left to right and top to bottom in photo):
Cindy Cheng – Waterloo, Ontario
Detecting hypoxia through the non-invasive monitoring of sweat lactate and tissue oxygenation
Aditya Dewan – Mississauga, Ontario
SPRKD: Effective Knowledge Distillation for Deep Neural Networks via Saddle Region Approximation
Max Du – Calgary, Alberta
A Novel Pre-Hospital Indoor Rescue Drone
Keerthan Kamala Krishnamoorthy – Winnipeg, Manitoba
Detection of Harmful Microorganisms in Drinking Water using Deep Learning
Krish Modi – Sarnia, Ontario
Pee Xylophone: A Novel Non-Invasive System to Measure Bladder Pressure
Annabelle Rayson – Sarnia, Ontario
Plankton Wars: An Innovative Analysis of Daphnia Genotype Biomanipulation for Algae Bloom Prevention
Thomas Yang – Toronto, Ontario
Seeing Cells without a Lens: Compact 3D Digital Lensless Holographic Microscopy for Wide-field Imaging
Tara Zhan – Vancouver, British Columbia
Hemistride: Design of a Low-Cost and Backdrivable Lower-Limb Exoskeleton for Hemiplegic Patients
Learn more about Team Canada-ISEF 2023.
"The time, energy and ingenuity these students invest into these projects is remarkable and something of which they can be very proud," says Prof. Patrick Whippey, chair of the selection panel. "From their scientific inquiry, curiosity and outstanding creativity, each student has certainly earned their spot on the team".
The YSC Team Canada-ISEF program is made possible thanks to the Gwyn Morgan & Patricia Trottier Foundation, through its Youth Can Innovate program. To learn more about the program or to donate in support of youth in STEM, please visit Youth Science Canada donation page.
About Youth Science Canada
Youth Science Canada fuels the curiosity of Canadian youth through STEM projects. A registered charity incorporated in 1962, YSC delivers on its mission through national programs including mySTEMspace, the National STEM Fair Network, Canada-Wide Science Fair, STEM Expo, Team Canada representation at international fairs and Smarter Science professional development for teachers. Through these programs, YSC provides direct support to the more than 500,000 students who do STEM projects in any given year. For more information, visit youthscience.ca