Canadian youth celebrate double victory at prestigious European science contest
Ottawa, September 19, 2023 – Youth Science Canada celebrates the outstanding performance of Elizabeth Chen from Edmonton and Arushi Nath of Toronto, who earned top awards at the 34th European Union Contest for Young Scientists (EUCYS) held in Brussels, Belgium, September 12-17.
Chen was awarded first prize for her project, Optimization of CAR-T Cell Therapy using RNA-Sequencing Analysis for Biomarker Identification, which earned her the Best Project (Discovery) Award at the Canada-Wide Science Fair (CWSF) in May of this year. Nath won second prize for her project, Developing algorithms to determine asteroid's physical properties and success of deflection missions, which earned her Best Project (Innovation) Award at CWSF 2023.
"We could not be prouder of Elizabeth and Arushi," says Reni Barlow, executive director at Youth Science Canada, organizers of Team Canada-EUCYS since 2008. "Their accomplishments attest to the curiosity, ingenuity, and hard work that fuels Canadian students in investigating the most pressing questions and challenges of our day. Their performance is also a testament to our national network of educators, fair organizers, volunteers, and public-private programs that support young scientists and engineers of all ages and throughout the year."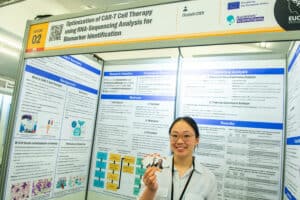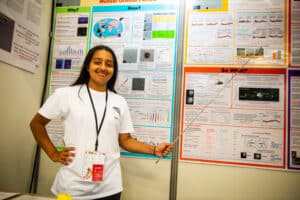 CWSF alums Elizabeth Chen (left) and Arushi Nath (right), proudly showcase their projects at the European Union Contest for Young Scientists held September 12-17, 2023, in Brussels, Belgium.
Organized by the European Commission, EUCYS is a prestigious event that showcases the best scientific achievements of young scientists from across the globe. This year, the event featured the participation of 136 young scientists, ages 14 to 20, from 36 countries, presenting a total of 85 innovative projects.
Coordinated by YSC, Team Canada delegations represent the country at international youth STEM project competitions and events. Team Canada's remarkable achievements on the international stage have been made possibly by the generous support of Youth Can Innovate, a program of the Gwyn Morgan and Patricia Trottier Foundation. The collaboration between Youth Science Canada and Youth Can Innovate exemplifies the power of partnerships in elevating Canadian youth STEM talent to new heights, ensuring that young innovators receive the recognition and opportunities they deserve on the world stage.
Canada is the only country to have won two Core Prizes at EUCYS 2023, and this is the second consecutive year that Canadian students have achieved this distinction. Canada's continued success at EUCYS reinforces the country's position as a world leader in fostering young scientific talent and innovation. Youth Science Canada remains committed to nurturing the next generation of researchers and innovators, ensuring they are well-equipped to make significant contributions on the global stage.
To stay up to date on Youth Science Canada programs, STEM project competitions, and events, please visit youthscience.ca.
-30-
About Youth Science Canada
Youth Science Canada fuels the curiosity of Canadian youth through STEM projects. A registered charity incorporated in 1966, YSC delivers on its mission through national programs, including mySTEMspace, the National STEM Fair Network, Canada-Wide Science Fair, STEM Expo, Team Canada representation at international fairs and Smarter Science professional development for teachers. Through these programs, YSC directly supports the more than 500,000 students who do STEM projects in any given year. For more information, visit youthscience.ca.
About European Union Contest for Young Scientists
The European Union Contest for Young Scientists was set up by the European Commission in 1989 to encourage cooperation and exchange between young scientists and to give them an opportunity to be guided by some of Europe's most prominent researchers. Every year, the event gathers promising young scientists from all over Europe and beyond to present their projects to a panel of international judges. Only projects that have won a first prize at a national science competition are invited to participate at EUCYS. For a detailed overview of the projects, prizes and jury members, please see the EUCYS website or the EUCYS webpage on the EC website.
For more information: 
Dalia Esposito
Torchia Communications
Cell: 514-654-2635
[email protected]