CWSF 2022 Ambassadors Announced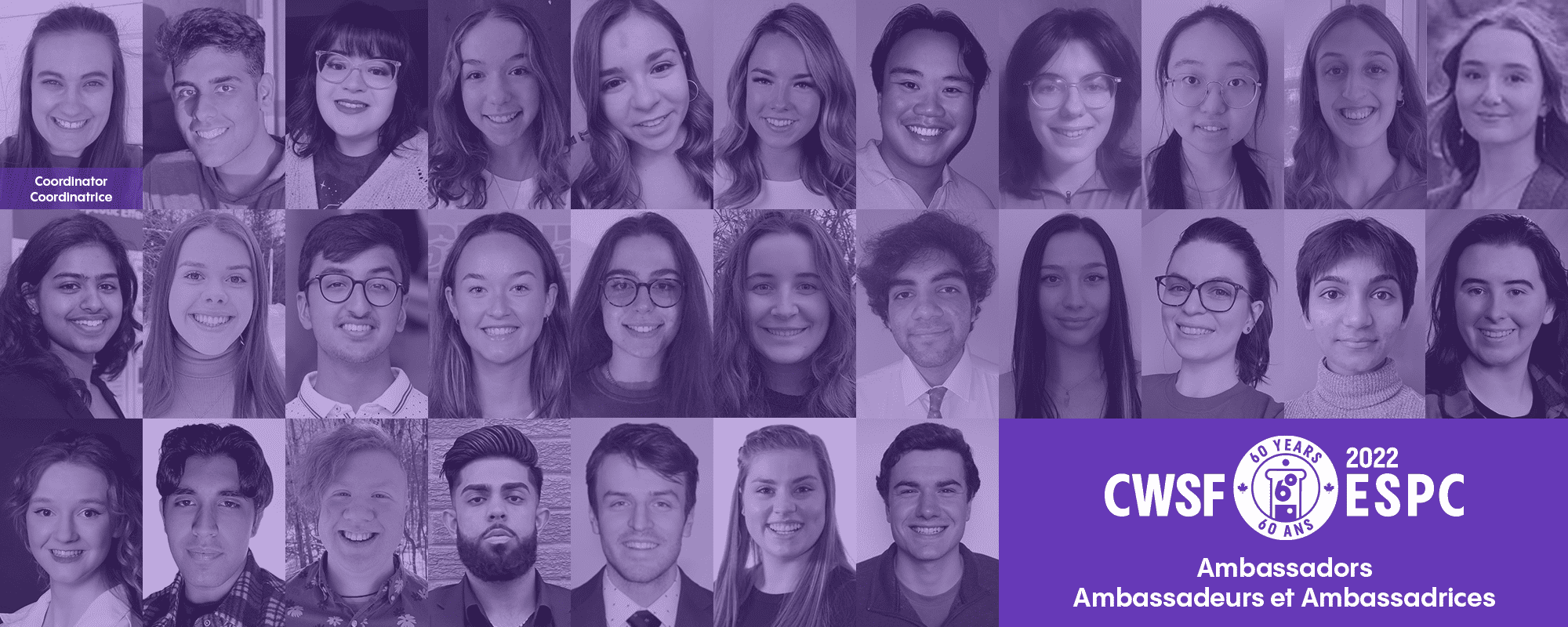 Youth Science Canada is pleased to announce the 29 alumni who have been selected to serve as Ambassadors for CWSF 2022, being held virtually from May 16 to 20. The CWSF Ambassadors are former CWSF finalists who have graduated from secondary school and who will interact with finalists throughout the week. Finalists annually rate the Ambassadors as being one of most impactful elements of their CWSF experience. We look forward to this year's Ambassadors helping us to deliver Canada's premiere youth science event.
Laurissa Christie from Manitoba will coordinate the Ambassador team at CWSF 2022.
Meet the Ambassadors
Left to right, top to bottom in photo
Laurissa Christie – MB (Ambassador Coordinator)
Akshit Ayri – AB
Katie Brent – ON
Sophia Cottrill – ON
Julie Delorme – ON
Chloe Devoy – AB
Gerone Dimalanta – SK
Maria Duynisveld – NS
Wendy Fang – BC
Zoe Gagnon – ON
Audrey Golsteyn – BC
Anika Gupta – ON
Madelaine Hall-Paradis – ON
Krish Joshi – ON
Sophie MacDonald – PE
Jacqueline Mansiere – BC
Lauren McGrath – NB
Reza Mozaffaripour – ON
Saige Niemi – ON
Chantal O'Neil – ON
Prutha Patel – ON
Emily Robb – MB
Abigail Sadowski – SK
Rohan Sethi – MB
Davis Shewchuk – AB
Abhijeet Singh – AB
Joseph Trottier – ON
Alyssa van de Riet – NB
Jackson Weir – MA, USA
Follow us on social media to learn more about these amazing young Canadians.